Dr. Jacqueline M. Hamilton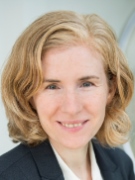 Alumni
Address
Universität Hamburg
Post-doctoral researcher
Contact
Mailaddress:
Research Unit Sustainability and Global Change
Centre for Marine and Atmospheric Sciences (ZMAW)
Grindelberg 5
20144 Hamburg, Germany
Telephone:
+49 40 42838 4998 (voice)
Jacqueline has a Master of Arts (Honours) in Political Economy from the University of Glasgow and a Master of Civic Design in Town and Regional Planning from the University of Liverpool. Before joining Hamburg University, she worked in transport planning at ARGUS Stadt- und Verkehrsplanung Hamburg.
During her time as a PhD Student at the research unit Jacqueline studied adaptation to climate change in the context of the DINAS-Coast project. Her research focused on the impacts of climate change on tourism, in particular tourism in the coastal zone. After completing her doctorate she worked at the Centre for Wood Science, the University of Hamburg. In March 2007 she returned to the research unit to work on the project QUANTIFY.