HABITAT
The HABITAT model - conservation planning for European wetlands
The model was originally developed by Kerstin Jantke and Uwe Schneider with contributions from Christine Schleupner.

The HABITAT model selects areas which have a high priority for nature conservation. This reserve selection tool is explicitly designed for the special requirements for conservation planning on the European continent with its fragmented habitats and high human population density. HABITAT is a mathematical programming model written in General Algebraic Modeling System (GAMS). It is based on principles of systematic conservation planning and economic theory. Spatial input data are pre-processed in ArcGIS. Figure 1 gives a structural overview of the model. The studies carried out with the HABITAT model so far focus on European freshwater wetland biodiversity. As most conservation planning tools, HABITAT is based on the set-covering problem. This central component of the systematic conservation planning philosophy aims at efficiency of resource use. The objective is to find a set of conservation sites that achieves a conservation target at minimum cost.
Several studies have so far been carried out with the HABITAT model (see Publications list). Furthermore, the "
Hamburger Abendblatt" has reported about its results and the
GAMS homepage presents its applications.
The figure below gives an overview of the HABITAT model.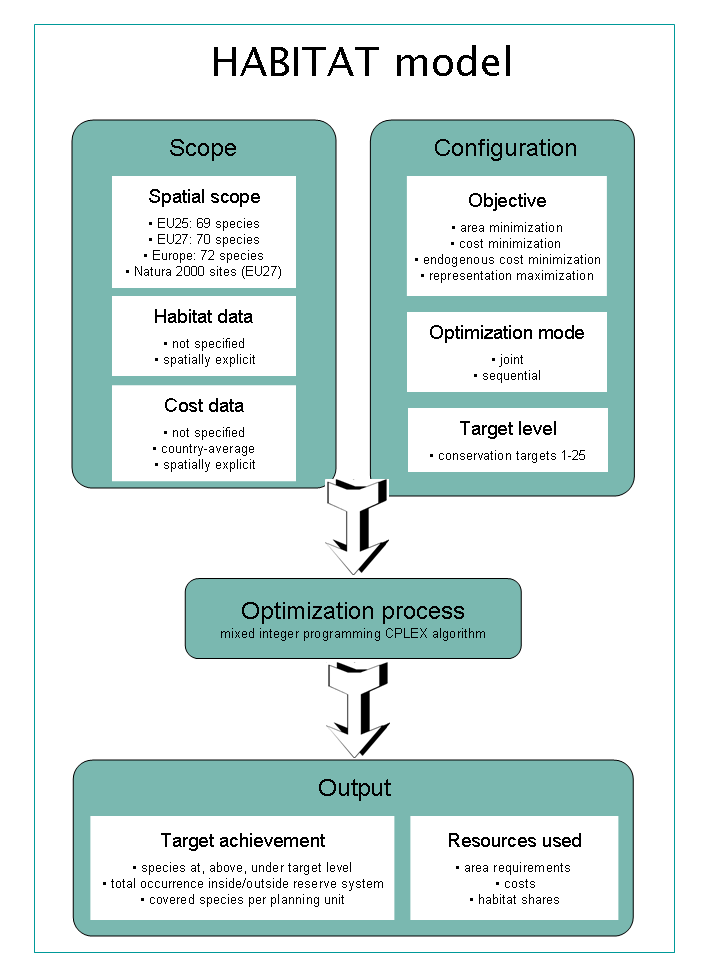 Publications
Jantke, K., C. Schleupner and U.A. Schneider (2013). Benefits of earth observation data for conservation planning in the case of European wetland biodiversity, Environmental Conservation, 40 (1), 37-47. Available online
Jantke, K., C. Schleupner and U.A. Schneider (2011). Gap analysis of European wetland species: priority regions for expanding the Natura 2000 network, Biodiversity and Conservation, 20 (3), 581-605. Available online
Jantke, K. and U.A. Schneider (2011). Integrating land market feedbacks into conservation planning - a mathematical programming approach, Environmental Modeling & Assessment, 16, 227-238. Available online
Jantke, K. and U.A. Schneider (2010). Multiple-species conservation planning for European wetlands with different degrees of coordination, Biological Conservation, 143 (7), 1812-1821. Available online